This page will be the owner's source for "Official Updates" on the rebuild of the R-Ranch Bunkhouse, Cottonwood Lodge and the pool. We will update this no less than once a month, but more often as designs and other construction information is available.
**progress of this week 9.13.2019**
Monday – slow to start squaring up the pool equipment building and the electrical panel to where the new lodge will eventually be
Tuesday thru Friday – Guiton's Pools and Welburn Electric have been working very long days to get the job done on time.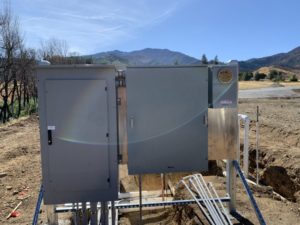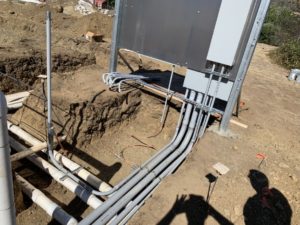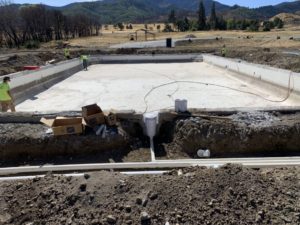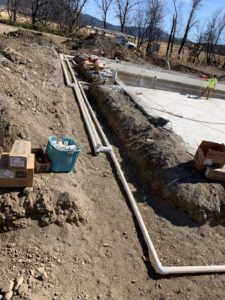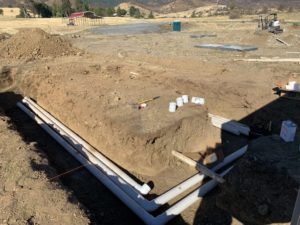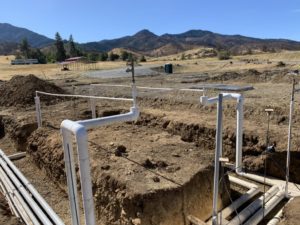 **************************************************************************************************************************************************************************************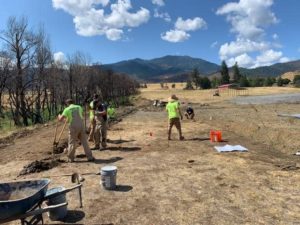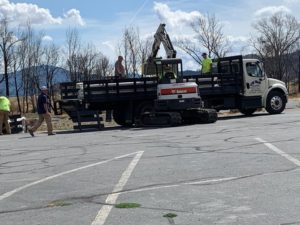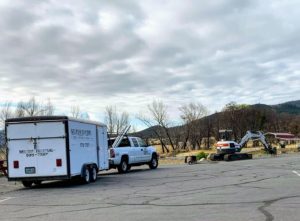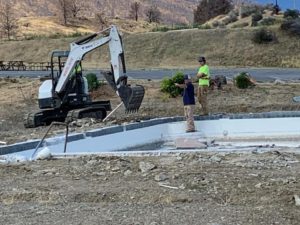 PHOTOS FROM 9.9.2019 – THE POOL
Additional August 2019 Rebuild Update
Guiton's Pools: Dave talked to them today and they are hand delivering the permits for the pool to Siskiyou County Health Department today, August 22, 2019.
Welburn Electric: Dave talked to them yesterday, August 21, 2019 and they are going to start calling H Housing & Community Development through the State of California today to find out where we are in the permitting process. We also talked again about having our service come in by pole and not trenching.
Blue Star Propane: they came out and spoke with Carl and Dave about tank placement at that time they also talked to Guiton's Pools about BTU of pool heaters and decided we will still need two 500 gallon tanks. The tanks will be set on cinderblocks and no pad is needed. It was decided to set the tanks above the pool septic for two reasons; #1 – it will be well out of the way construction and #2 – we will not have to place traffic barriers around it.
Carl and Dave have talked about what the Ranch has to do for the pool. We have to run a 4" PVC and electric run from pool septic tank to pump house. We have to run 1 ½" PVC from potable water to pump house. We have to dig an 18" deep trench from propane tanks to pump house. We also need to get and install a new small pump for pool septic system. Carl is familiar with a schematics program so we will have records of all this trenching and location of services.
Dave has not received a bid from Evans Building & Excavation on concrete work yet
**************************************************************************************************************************************************************************************
August 2019 Rebuild Update
The Ranch had to hire an attorney and this took away four to six months of time. The Public Adjuster hired is Greenspan. This company handled some of the 9/11 claims and know what they are doing. They will be going after $500,000 to $1,000,000 left in the policy, and that does not include what is in the Elite Policy. They will be working closely with the BOD. Currently they are evaluating the Ranch as a whole because that is part of our value of the buildings. Pictures of all buildings have been sent to Greenspan. Greenspan will be charging the Ranch a fee of thirty percent (30%) of what they collect. We are anticipating that they will collect over $1,000,000. They are not entitled to any of the monies the Ranch has already collected.
The Elite Policy has coverage to allow for various small things. We're going through all of those things so we can collect on them as well.
Concerning the Cottonwood pool; electrical supplies have been ordered. Electrical work on the Cottonwood pool should begin the end of August, beginning of September. We are starting to get materials for the transformer. After a lengthy search, Northwest Pools from Eugene, Oregon was hired and should begin work in September.  The pool estimate was given at $250,000.
The Board is interviewing for the rebuild and getting price per square foot. The January 2020 code upgrades are going to go crazy. The plan is to get permits in before January 2020 and start building around April. We're pretty sure we're going to have to have sprinkler systems.
2nd Vice President, Rod Carson, is working with the General Manager on a schedule of construction for the pool. The way it works is: The contractor comes in and they put all new pipes in the pool; they stub it out to a pad (electrical well-house); we come in with either our own contractor, sub-contractor or construction company, and do concrete work (including the pad to that building). Once that is complete, the pool company comes back and re-plasters the pool, re-coats the pool, and puts in heaters, pumps, filters, etc., all to that stub-out for the pool. Then we're going to put the building on the stub-out. The heaters and other necessary pool items are outdoor-rated, but we don't want to go through the winter with them outdoors.
Greenspan has taken pictures of the old solar panels to add that in. The pool has to be solar ready, but will not be solar at this time due to the expense.
Just a reminder to owners, our irrigation pumps and most everything for Cottonwood are connected to this electrical being replaced.
The status of the Cottonwood Lodge and Bunkhouse, we are hoping to start construction in April 2020.  The BOD is looking at plans with the possibility of putting the cook shack right behind the Bunkhouse so owners wouldn't have to walk that 20+ yards.  The projects should be finished within 90 days of the start of construction.
Contractors for the project are Beaver Construction from Ft. Jones, California, G & S Construction from Medford, Oregon, Adroit from Ashland, Oregon; and Kirack Construction from Susanville, California.
Just a reminder that most of our permits come through the State of California; with only the permits for the pool operation and the kitchen operation coming from the Siskiyou County Health Department
The Ranch got a little behind in rebuild with all that has been going on.
The general manager also would like acknowledge that 14 owners lost their personal homes in the 2018 Paradise fire.
CONSTRUCTION GOALS FOR THE R-RANCH: Your Board of Directors and the General Manager have set the following goals for the rebuild of the R-Ranch.
NEW POOL: New target date for start of the new pool is fall of 2019. Updates on progress will be posted as available.
BUNKHOUSE/COOK SHACK: Target date for start of construction April 2020. We hope to open the new bunkhouse for occupancy by approximately 90 days after start of construction.
COTTONWOOD LODGE:  Target date for start of construction April 2020. We hope to open the new bunkhouse for occupancy by approximately 90 days after start of construction. Both buildings will be constructed simultaneously.
WATCH THIS PAGE FOR OFFICIAL UPDATES